Activated carbon is a form of charcoal that has been treated with oxygen to open up millions of tiny pores between its carbon atoms.
It is an excellent source of water filtration, and is made from carbon-rich source materials such as wood, bamboo, nutshells, peach pits and coconut husks.  The material is charred at high temperatures to produce a highly porous substance that attracts and holds organic chemicals inside it.  It can be used to remove volatile organic compounds (VOCs) such as benzene and chlorine, as well as odors and colors, from water.
Heyl & Patterson Inc., a world leader in thermal processing and bulk materials handling, will host participants of the 36th International Activated Carbon Conference at its pilot plant testing laboratory to demonstrate equipment it manufactures for the production of activated carbon.  Heyl & Patterson's laboratory facility is located in the Greentree area of Pittsburgh, and has tested industrial processes since 1968.  The tour is planned for 4:30 PM on Thursday, September 17, 2015.
When carbon has been activated, a multitude of holes open up in its surface, resembling a honeycomb, so that a teaspoon of the material has about the same surface area as an entire football field.  Heyl & Patterson designs specialized machines called rotary calciners, sometimes called kilns, that produce this catalyst material.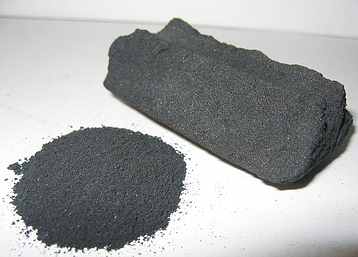 "When water passes through a bed of activated carbon, many of the contaminants are chemically attracted to its honeycomb holes and stay inside them, pulling the impurities out of the water so that it is safer to drink." said John Edelman, President and CEO of Heyl & Patterson.  "For example, there was an explosion several years ago at a petrochemical plant in China that spilled benzene into a river that supplies drinking water to millions of people.  Activated carbon was used to clean up the spill and purify the water."
A calciner is a high-temperature, indirectly heated rotating cylinder in which the atmosphere and environment can be controlled, while volatile gases are captured and completely combusted.  The cylinder shell is at a slight angle, which motivates the flow of material from the feed point to the discharge.
Low moisture wood chips enter the unit, and indirect heat of several hundred degrees is applied to roast the wood without burning it.  This process "activates" the carbon in the source material, opening pores that allow it to adsorb substances.  Through adsorption (not to be confused with absorption, which would be like a sponge), the carbon in these materials accumulates a wide range of impurities and contaminants, including chlorine, odors and pigments.  The increased surface area of active carbon allows for copious space in order for chemical bonding to take place.
As one example, the presence of chlorine in water leads to a very unsavory taste.  A filter made of activate carbon can adsorb the impurities and odors that cause this, leaving better tasting water. The chemicals in the water pass over the activated charcoal, bond with it and remain inside the material.  The substance can also be used to filter out offensive odors in the air.
Heyl & Patterson has vast experience and innovation in engineering that spans well over a century, and the company's dedication has consistently produced superior products and services that customers have come to rely on.  Heyl & Patterson calciners are engineered to the most exacting designs and built with the highest quality craftsmanship.  They are regarded by some as the workhorses of the thermal processing industry, and are able to easily handle any number of different materials.  The quality of this equipment, the attention to detail and a vested interest in the success of our customers makes Heyl & Patterson the sensible choice for activated carbon equipment.  In addition, the heat and gases generated during the process can even be returned to the calciner, in order to lessen the amount of new energy needed to produce heat.
Heyl & Patterson Celebrates 125 Years in Business
Heyl & Patterson Videos on bulk-online